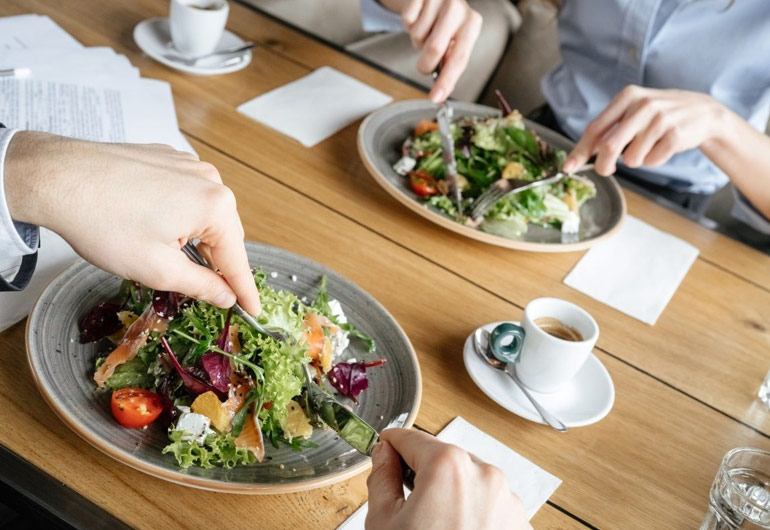 Feed Your Employees
Imagine having a strong market and customer base but lacking the right people to meet and satisfy your customers' needs. What would be the likely outcome? According to Forbes, employees are even more important to businesses than customers. Therefore, having satisfied employees should be your utmost priority. Toward that end, it is a good idea to spring for occasional meals at the office for your employees. You and your business may benefit in more ways than you can imagine.
Benefits of Feeding Your Employees
Providing meals at the office may boost job satisfaction and productivity. It can enhance teamwork and help you build a concrete brand with the best employees. We acknowledge that it might be difficult for small and medium-sized businesses to feed their employees every day. This is where the role of online food ordering comes in and iEatery boasts a collection of restaurants with varieties of food options and varied price ranges.
1. Job Satisfaction
It is not cheap to feed 40 or so employees. However, feeding your employees makes them feel more appreciated. This enhances job satisfaction. You are likely to retain them for a longer period of time and build a strong human resource base.
2. Enhance Productivity
Lunch breaks disrupt workflow at the office. Some people tend to leave early or come back late, eating during work hours. Providing lunch reduces the disruptions caused by off-site meals. Individuals spend more time working.
3. Better Teamwork & Collaboration
Food always makes a moment enjoyable. Employees tend to work better when they take their meals together. Spending your favorite moments together invokes new ideas and creates a strong bond. Workers know each other personally, and this improves teamwork.
4. Increases Employee Loyalty, Thus Retention
The small and underrated perks, such as lunch, make people want to work for and remain at your company. Employees who are well-taken care of, in turn, take care of the business well. As a business owner, you can benefit from a pool of loyal employees who know all about your business.
Loyal workers will stick with you, saving you the hustle of employing and training new staff members every time. Retaining employees also helps you build a strong business brand, enabling you to attract the best employees in the market.
5. Enjoy Fringe Benefits and Other Tax Considerations
Your employees' well-being should be a priority. You will enjoy benefits by giving them lunch or providing free rides to and from work.
You can enjoy tax write-offs when you provide food for your workers. However, legislation on tax reductions and reliefs varies from state to state.
Build Your Restaurant Brand with iEatery
Power your business with our free restaurant online ordering system & you'll never have to worry about fees or commissions. We appreciate the passion of food lovers, and the value they bring to your business. At iEatery, our core values are all about your food, your restaurant, and loyal customers; thus, building a strong bond between you and your clientele.
Increase your restaurant's revenue
Retain your customers
See your customers' order history
Reach new customers
Increase your restaurant's brand awareness